In today's "Fursat Ke Raat Din" RJ Nikhil will talk about, From which film in india publicity started via posters, After a lot of criticism who was the actor who's hair style became hot favorite ,more of such interesting trivia along with melodious songs.
Do Listen to "Fursat Ke Raat Din" at 10 am , 1
more
Sameer is a Vice President in a fortune 500 company in Bay Area California with a passion for music and a flair for radio.
Gaata Rahe Mera Dil is the longest running radio show in the country and can be heard coast to coast in seven states on Merasangeet.
Sameer loves to
more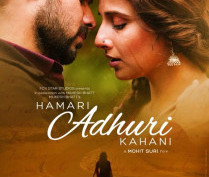 Catch Vidya Balan in conversation with Rj Kanwal in "Chat and Chai"on 10th June and 12th June at 8 am , 3 pm , 7 pm ,11 pm (ET) Vidya talks about her upcoming movie "Hamari Adhuri Kahani" ,which is her favourite song from the movie and her memorable experiences while the shoot for the movie
more