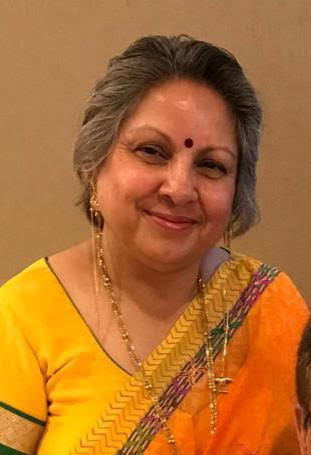 Neelam currently serves as President of SAHELI Boston, a landmark non-profit organization created by South Asian women 25 years ago to support domestic violence survivors on the path to reclaim, rebuild, and reimagine their lives. Neelam's association with Saheli these past 20 years has taught her the fragility of human beings. She has guided and supported Saheli during the fundraisers since 2010. She chaired Advisory committee and Saheli Biennial Nirbhaya Gala in 2019, providing leadership in design, build and the execution of the program.
A life-long community activist, leader and artist, Neelam has always championed and supported the causes of those in need. She has served as President of organizations including the Council on Aging as well as the Billerica Chamber of Commerce. In addition, she has committed countless hours to the boards of educational and legacy non-profits throughout her career. Recognized as Business Champion of the Year, Neelam was appointed by the State Treasurer to Chair the Asian American Commission – a body dedicated to political advocacy on behalf of the Asian American community in the State of Massachusetts.
Neelam Wali is the Owner and Founder of Printing & Graphic Services, a full-service print and design company operating in the greater Boston area for nearly 30 years. A student of fine arts, Neelam immigrated to the United States in the late 1970's where she met her husband.
Do listen in to this conversation with Neelam, incase you missed it – once again, this Tuesday, 20 July, on our Hindi Radio Show, Chat and Chai, MeraSangeet Gold at 7:00 AM , 11:00 AM , 1:00 PM , 3:00 PM , 5:00 PM , 7:00 PM , 9:00 PM , 11:00 PM – EST.