KANWAL
Comments are closed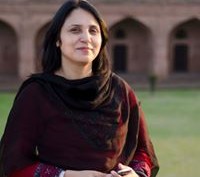 The Nightingale of Mera Sangeet Rj Kanwal is the host of "Chat & Chai"
As we move with the journey of life,writing our success stories, faltering sometimes picking ourselves up again -I journey with you  spreading the fragrance chat and chai…fueling life with enchanting music.
Haath mein ho garam chai ka piyala…aur Baatein hon, nagme hon, kisse hon ,yaadein hon..toh aapka 1 ghante ka safar ho jaata hai suhana….tou sunnte rahein Kanwal ke saath Chat and Chai..only on Merasangeet, sab ka meet.
Show Timings-
Mera Sangeet U.S.A-11 am , 2 pm , 4 pm , 11 pm (ET)
Mera Sangeet L.A- 1 pm , 11 pm (PT)
Mera Sangeet Gold-10 am ,1 pm ,5 pm , 7 pm (ET)
Chat and Chai is brought to you by India`s leading hindi entertainment channels star plus and life OK.
Email-kanwal@merasangeet.com
Call- 1 800 471 8987 ext 2